AFA13 Singapore:I love anisong artist lineup(Ticketing Details updated)!
Just as AFAID 2013 is happening, Sozo have annouced the line up for AFA 2013 Singapore I love anisong:
Friday, 8th Nov 2013:
motsu X DJ KAYA(*Video used is M.O.V.E which have been disbanded)
Saturday, 9th Nov 2013
Sunday, 10th Nov 2013, (VALRAVE the Liberator NIGHT):
T.M.Revolution X Nana Mizuki
At the time of posting,details of the tickiting price has not been release yet. So do hold on tight as we wait for SOZO to annouced it. Meanwhile with such a lineup, you can start saving up for the ticket!
Updated on 08/09/2013: Click here for ticket details!
Updated 09/09/2013:Unfortunaely eventclique seems to have removed the page for some reason. Please stay tune for the releeased of the ticketing info.
Updated 12/09/2013: This is it: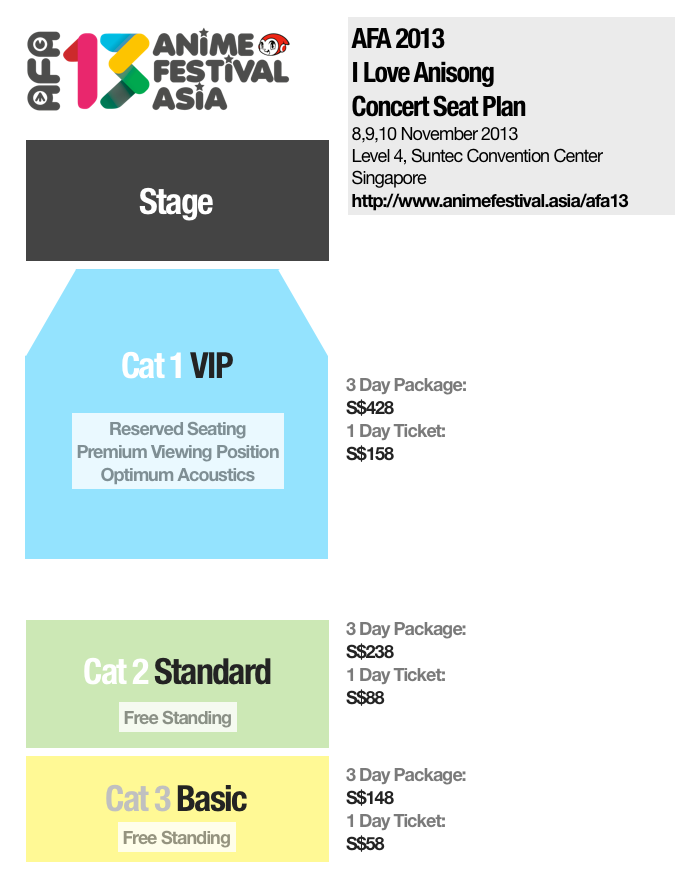 AFA 2013 Singapore Ticket Launch Schedule:
1. Early Bird Promotion
SAT 14th September 2013 (12:00pm) ~ SAT 28th September 2013 (11:00am)
2. Normal Ticket Sales - All Concert Tiers
SAT 28th September 2013 (12:00pm) onwards
3. Exhibition + Stage (E+S) Ticket Sales - Available at Physical Sales Outlets only
FRI 25th October 2013 onwards
4. All Ticket Tiers
Available at the event grounds on event days of 8, 9, 10 November 2013. (Concert tickets may sell out before event dates)
Physical Ticketing Outlets in Singapore:
EventCliQue Office
(Will be open on the weekend of the 14th and 15th September for Early Bird Ticket Sales start!)
Address:
71 Ayer Rajah Crescent
Mediapolis Phase 0
#03-10
Singapore 139951
Contact us: 6602 9900
E-mail:
[email protected]
Operation hours:
Mon - Fri : 9am - 6pm
14 Sep: 12pm – 6pm
15 Sep: 10am – 6pm
Getting there:
Train: CC Line one-north Station
Bus: 14, 33, 92, 95, 166, 198, 200, 91
EventCliQue @ Chinatown Point (From 21 Sep onwards)
Address:
133 New Bridge Road
#02-21
Singapore 059413
Contact us: 6702 0115
Operation hours:
Mon - Sat : 10am - 8pm
Sun & PH : 12pm - 8pm
Getting there:
Train: NEL Chinatown Station (Exit E)
New Bridge Road Buses: 2, 12, 33, 54, 143, 147, 190, CT8, CT18, CT28
Eu Tong Sen Street (People's Park Bus Stop): 54, 124, 145, 147, 166, 190, 851
EventCliQue @ Actually Shop (From 21 Sep onwards)
Address:
[email protected]
#04-06
Singapore 238895
Contact us: 6336 7298
Operation hours: Daily: 11.00am - 9.30pm
Getting there:
Train: NSL Somerset Station
Bus:
Orchard Road
7, 14, 14E, 16, 65, 106, 111, 123, 175, 502, 502A, 502B
Somerset Road
7, 14, 14E, 16, 36, 65, 77, 106, 111, 123, 124, 128, 143, 162, 162M, 167, 171, 174, 174E, 175, 190, 502, 502A, 502B, 700, 700A
To by ticket
visit this link
For more info
please visit this link