AFA13-All U need 2 know,well...almost...
Its approaching fast! In a few days we would be swarming over to Suntec Exibition Halls for
Anime festival Asia 2013.
If you have been under your shell or something here is the post that will prepare you for this weekend ahead. For your convience i have tried to summarised everything here. Do follow my twitter @speedknight for live tweets coming in on friday afternoon during the media preview~!
1-I love Anisong Concert Artist Lineup:
1-1:Artist lineup
Egoist
Hachioji-P
livetune
motsu X DJ KAYA(*Video used is M.O.V.E which have been disbanded)
Valerie (Video used is from SEA*A, which have been disbanded, she now a solo artiste)
Eir Aoi,
LiSA
May'n
Milky Holmes
Sunday, 10th Nov 2013, (VALRAVE the Liberator NIGHT):
Angela
T.M.Revolution
T.M.Revolution x Nana Mizuki
Elisa
1-2:Autograph Balloting Results & collection timings (sourced from AFA Facebook page):
2-Host /Guest Host/Guest moderator:
2-1:Host,Guest Host and Guest moderator
Danny Choo(Host)
Ferlyn Yoshimi(Guest Host)
Reiko(Guest Host)
Hisanori Yoshida(Guest moderator)
3-Special Guest/Seiyuu Apperances:
3-1:Psycho Pass Exprience Zone:
Gen Urobuchi-Scenario writer working for Nitroplus
Koji Yamamoto-Chief Producer for Psycho-pass
Naoyoshi Shiotani-Director for Psycho-pass
3-2:Sword Art Online Exprience Zone:
Tomohiko Ito-Director of Sword Art Online;A-1 Pictures
Shinichiro Kashiwada-Producer, Sword Art Online
3-3:Shingeki no Kyojin Exprience Zone:
Tetsuro Araki-Director,Shingeki no Kyojin
Kyoji Asano-Character Designer, Shingeki no Kyojin
George Wada-Producer, Shingeki no Kyojin
Tetsuya Nakatake-

Producer, Shingeki no Kyojin

Yui Ishikawa-Seiyuu(Misaka Ackermann)

, Shingeki no Kyojin
Emi Nitta-Seiyuu(Honoka),μ's from Love Live!
Suzuko Mimori-Seiyuu(Umi),μ's from Love Live!
Sora Tokui-Seiyuu(Nico),μ's from Love Live!
3-5:Valvrave Exprience Zone:
Ryohei Kimura-Seiyuu(L-elf)Valvrave the Liberator

Ryouta Ousaka(Haruto Tokishima),Valvrave the Liberator
4-Special Guest Apperance :

5-Stage Showcase:
6-Space Dandy Special Segment by Animax:
KANAME☆
Clive
Angie
Ying Tze
Natumi
Hana & Baozi
Onnies
Reika
Richfield
8-AFA cafe: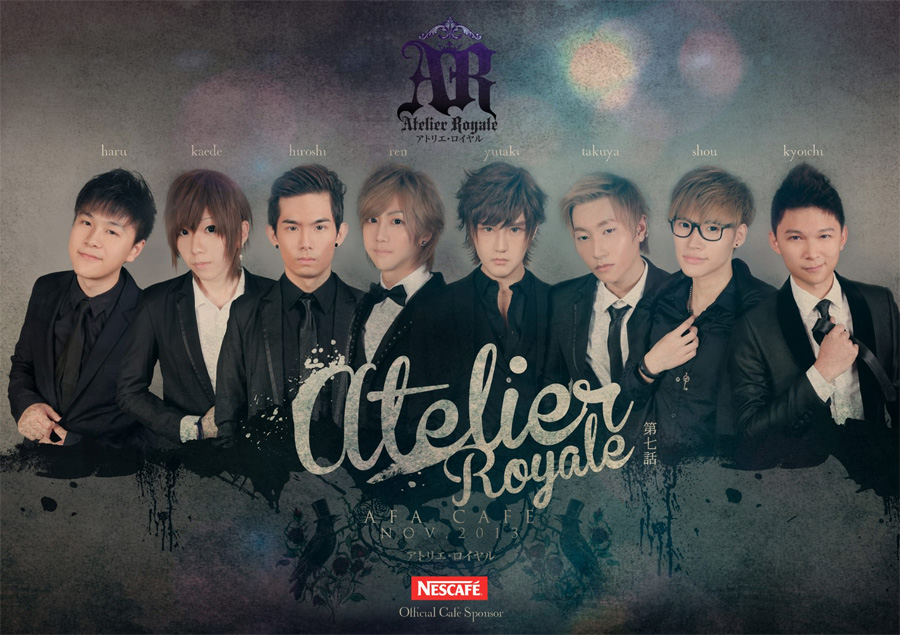 9-Some of Exibitors & Merchandises:
9-1.Sony Music(A81):
9-2.Muse(A69)
9-3.Latendo(A65)
9-4.Cherry Credits(A04)
9-5.Vanguard
9.6.SAO(A07)

9-7.ODEX(A49)
9-8.GSC
9-9.Tamashii Nations(A29) & Bandai(A27)
Friday 12PM Kuji ,Tickets @ $13 Each(Max:4 tickets)
Friday 2PM Kuji ,Tickets @ $13 Each(Max:4 tickets)
Saturday 12PM Kuji ,Tickets @ $13 Each(Max:4 tickets)
Other merchandise:
10-Some of the Creators Hub merchandise(Doujin/Fanart):
*Eh this picture i kope from CDS fanpage de

10-1:Ice*Berry(C44):
10-3:Daiyaku(C11):
10-4:Anime Decals(C23)
10-5:Dream Walker(C28)
11-Event ground layout:
12-Main Stage Event Schdule:
13-Mini Stage Event Schedule: