It has been long time since i last update the blog(blog archived from my old one)
S.H.E concerts roxs my world :)
well it has been a very long time since is last posted
lol
,busy with school work and other stuff thus i have no time to update it.
Well it has been a very high weekend for me as i went to S.H.E concert on the 27th and on the 28th i went to
their
autograph session for
their
HK
cd
/
dvd
.
haha
tired
lors
on the 27th i almost 2am then reach home,because at
kallang
there is estimated turn out of 60K people.50K @ the national stadium to watch
singapore
vs
malaysia
in the 2
end
leg of semi-final(
asean
cup).
Another of 10K people in the indoor stadium watching S.H.E concert.To make things worst both start at the same time and the match will end 1/2hr earlier if there is no extra time and PK.Well knowing the crowd is going to be huge i went there
early
.the concert starts 30
mins
later as most of the people are late,you can't blame em
lar
both of the
stadium
full house
leh
haha
.Then the concert end at 11PM i tot that
heng
ar
end so late the match
should
ended long ago liaoz.To my horror i step outside of the indoor stadium i saw a sea of red....which means
omg
the match ended not long ago?
Later I found out that
singapore
won by PK.Well no choice
lor
,my friend and i walked down 2 bus stops away to take bus. But still,there is
alot
of
ppl
-_-". I am supposed to take 853 in the end wait and wait for 1hr
nb
still not yet come.....in the end have to take
NR
home....so take
NR
7 to transfer to
NR
2..well there is a little treat@ somerset.There was
an illegal street racing team having

their

race along "orchard

gudang

"(nicknamed for orchard being an famous illegal race track).
Once reach home i uploaded the concert picture and by the time i sleep is 3am liaoz.I am suppose to wake up on 5.45am,however too tired to wake up in the end drag until almost 7am then wake up,then i rush down to junction 8 lucky got friend who live reserved place for me.we waited 8 hours for the event to start. It started at 3PM and i got
their
autograph just 15
mins
after they started
signing
,the 3rd time i got
their
siggys
:).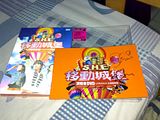 Blogged with Flock